---
Arsenal Survive Wigan Scare as Fabianski Gets Return Ticket To Wembley
Created on
Apr. 13, 2014 12:15 AM EST
---
Within the last few weeks, everything seem to have been against Wenger and the red half of London. With the morale still low, no thanks to the recent 3-0 defeat to Everton, the gunners needed to reach deep to face the Lactics to reach the FA Cup Final.


With over 50000 fans and a short trip to Wembley, the gunners were favourites to progress to the final especially after knocking out Liverpool, Tottenham and Everton. Wigan on the other hand had the tag of "Giant Killers" after they defeated Manchester City in the penultimate round. The Lactics are currently the cup holders and fancied their chances of causing another upset.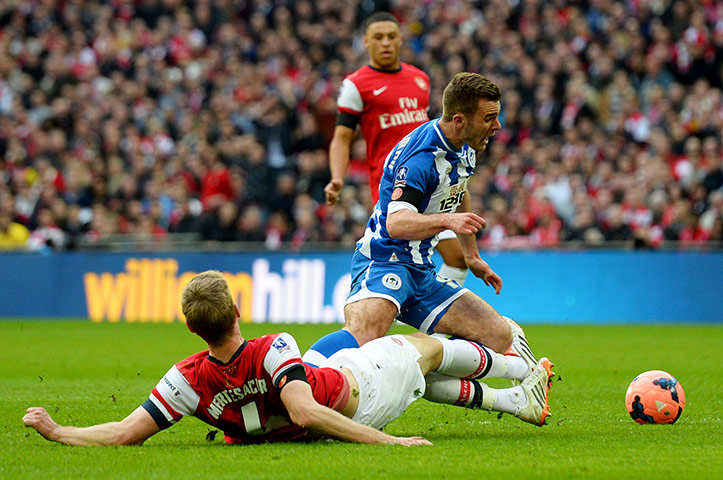 Wrong Meterception


After a drab first half, characterized by Yaya Sanogo's inexperience, Metersacker got his merteceptions wrong as he brought down Mcmanam. Gomez converted the resulting spot kick in the 63rd minute. That awkward feeling began to creep into every gooner. would it be "next year" again? would be another "trophy-less season"? Is this how Wenger would end his reign?


Even Wenger was tense, squatting on the sidelines, drinking from the water bottle unconsciously though not abusing it as before. Monreal had been replaced just before the goal by Gibbs and Wenger had to bring in Giroud for ineffective Podolski to add more pressure on Wigan's defense.


The woodwork would continue to prevent the gunners from scoring and Carson was everywhere. The gunners continue to pour on, firing all ammunition in their armoury with Mikel Arteta cleaning up with decisive interceptions and tackles to snuff off an Wigan attack.


Metersacker would redeem himself in the 83rd minute when he headed in Chamberlain's bobbling shot. Relief and belief were renewed. With tiring legs, Wigan could only commit more fouls but they held on till the end of 90 minutes.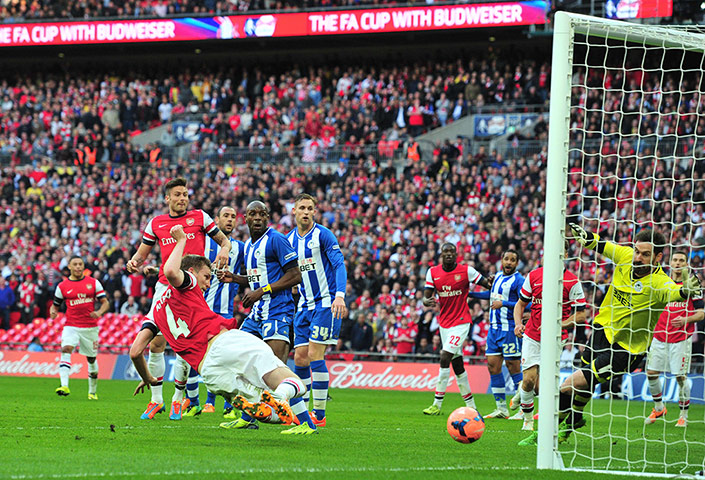 Redemption


The Extra time would have Arsenal written all over it but chances failed to be converted. Tired Ramsey was subbed off for January signing Kim Kallstrom. The Swede had a shot blocked in the nick of time as the game headed to the lottery of penalties.


Arsenal luck in penalties have been woeful with the lose at Bradford still tasting fresh. Arsenal had seen off WestBrom on penalties in the League Cup and their last trophy was a penalty shootout win over Manchester United in 2005.


Fabianski would save Arsenal as he saved the first two Wigan penalties. Arteta, Kallstrom, Giroud and Cazorla would convert for the gunners to return back to Wembley in May. A 4-2 penalty win and the belief is on for the 1st trophy in 9 years.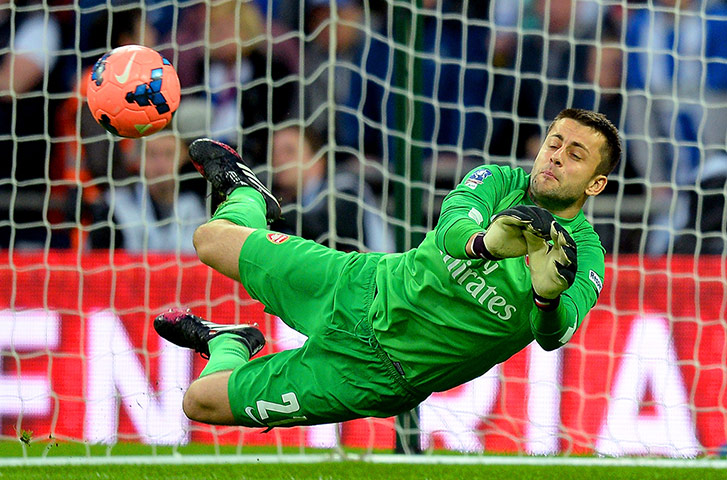 Two Saves from the flying Pole


Everton's 1-0 victory over Sunderland demoted Arsenal to 5th but the joy of being in the finally surely overrides the bitterness of Sunderland's loss. Nevertheless, the business of the Premier League would return by Tuesday against Westham and the gunners have to take the remaining matches like a cup final.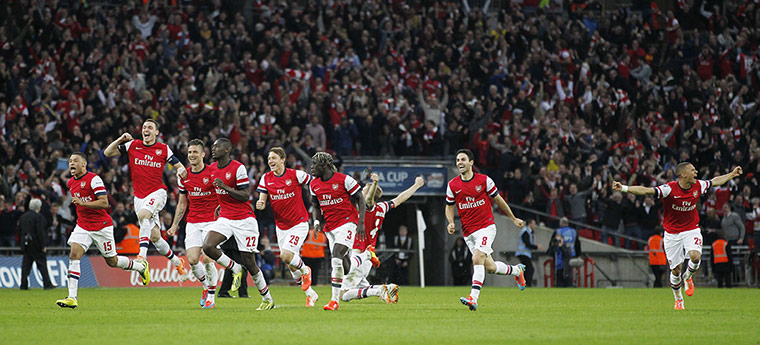 How Much The Victory Meant